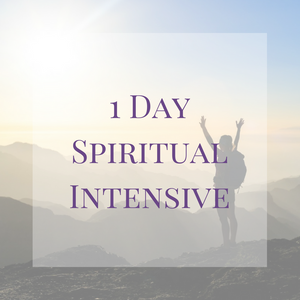 Two Day Spiritual Intensive
Sale price Price $377.00 Regular price $0.00
Location Sedona and Goodyear Arizona Sat and Sun Oct 12 and 13th Sat 10-7 Sun 11-5 Directions given upon Registration.
Sat day 1 we begin meeting at my home in Goodyear then making the journey together to Sedona to visit various energy vortex sites.
Sun day 2- 11-5 will be in Goodyear AZ where a Portal of Grace and Divine Light has been anchored.  You are invited to Bask and Dive DEEP Into Pure Source Energy. 
There is nothing you need to do, to work on but simply let it in and Allow the Light of the Divine to penetrate, opening you to healing, transformation, Spiritual Acceleration, Ascension, Awakening and whatever else you are ready to Receive.

A Portal of Divine Light and Grace is within my home, making this Space a Sacred Temple where anything is possible.

We begin day 2 by getting all attendees into a No Mind State of Consciousness, where all you experience is the Present Now Moment, the Past is gone, the Future is yours to create from this Fertile Void.
The calmness, peace, spaciousness, heart opening is nothing short of miraculous and profound.
People fly in from all over the World for this Radically transformative One day event!
Day 2 is in Sacred Silence so you may connect most Powerfully to the presence within and around you.

Space is limited and registration is required in advance as such there are No Refunds given. 
Retreat does not include lodging or food.  You may bring your own lunch both days. Erica can recommend lodging nearby.
Your payment constitutes an agreement that you have read and agree to this policy.