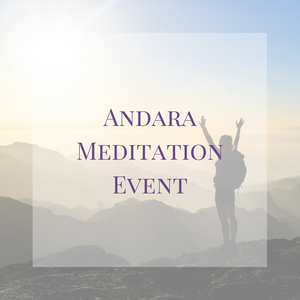 Andara Meditation Event
Sale price Price $33.00 Regular price $44.00
Andara Meditation event in Goodyear Arizona dates:  TBA, address given upon registration,  This event is 22.00 per person to attend Register for LIVE Andara Meditation event
Andara Meditation events are an excellent way to not only learn about Andara but to EXPERIENCE and work with the Andara for your personal spiritual activation, acceleration, ascension and awakening.
Monatomic Andara Crystals are new discoveries in the last 20-30 years that are here NOW to assist with the  Ascension & Shift we are currently experiencing on the planet.
Andara are the birth of the NEW CONSCIOUSNESS and NEW EARTH energy we are moving into.
At this Andara event you will learn about these Unique, and rare stones and then as a group we will experience several mini meditations with the Andara directly with themes such as: Ancestral clearinghttps://ericarock.com/healing, accelerated manifesting, DNA activation and expansion, physical, mental, emotional healing.
After the mini meditations, you will have exploratory time, where you have the opportunity to work with whatever Andara call to you.  These events are profound due to the fact that coming into contact with a true andara even for a few minutes has a lasting impact on consciousness.  YOU WILL RECEIVE a MAGICAL GIFT from the Andara, everyone always does.
True Monatomic Andara Crystals:
Automatically expand your state of awareness and increase intuition
Increase access to Universal knowledge
Activates/Opens channeling abilities
Accelerates the Spiritual Development process
Creates a bridge between ethereal and physical dimensions for faster manifestation
Clears and Balances chakras automatically
Builds Trust within bringing feelings of Empowerment
Andara work through the Heart Raising one's personal Vibration to a much higher rate
At the end of the event you will have time to shop for any andara who wish to work with you personally.