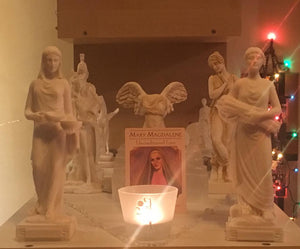 Activate & Initiate into the Order of the Christ & Order of the Rose
Sale price Price $88.00 Regular price $144.00

Awaken the Christ Consciousness within, you have Soul codes and Master codes for Initiating into this Lineage lying dormant, we will bring them online so you may Embody them.

The story of the Second Coming of Christ is Really about Awakening the Christ energy within us, allowing ourselves to be ReBorn.

Initiating into this lineage and Awakening these Codes brings a Higher Awareness, Compassion, Unconditional Love, Peace, Serenity, Harmony, Healing (for You and Others), Refines our Intuition making sure we are only receiving messages from Beings of the One True Light, Illumination, Oneness and Unity.

Become a Beacon of Christ Light, as your Energy and Presence is an activator for All you come into contact with. You become a Catalyst to light the Divine Flame in All.

While receiving the Christ Initiation we will also Initiate you into the Order of the Rose which has within its Powerful Field of Resonance, Mother Mary, Mary Magdalena, Isis, Quan Yin and more- they will share their Knowledge and Wisdom with you in an Energetic Download.

While also starting a Mentorship with you during times of quiet, stillness and silence, either when you are meditating, going for a walk in nature or while you are sleeping.

The Power of the Divine Feminine within this lineage will also share their Master Codes.

This is an Ultra Empowering Initiation and REMEMBRANCE of your Divine Sovereignty! Highly Transformative, Alchemical and Activating.
These Initiations will be Received via Pre-Recorded Ceremony