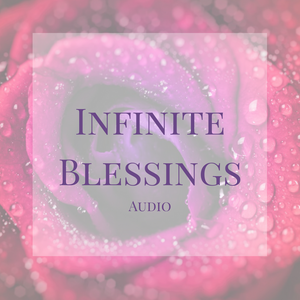 Infinite Blessings Audio
Sale price Price $11.00 Regular price
Music Infused with Divine Grace to Catalyze or Deepen your Spiritual Awakening Process, Elevate your personal vibration and the energy of your environment!
MP3 Download  
– Infinite Blessing Intro
7 Divine tracks filled with Pure Source energy to Lift your Spirits!  Each track has a Powerful Intention infused into it.
– Peace
– Forgiveness
– Love
– Grace
– Abundancehttps://ericarock.com/Prosperity
– Awakeninghttps://ericarock.com/Enlightenment
– Physical Healing
Countless people are awakening to spiritual enlightenment and finding practical life fulfillment from listening to "Infinite Blessings" and receiving the Grace that comes through this delightful music.
It's not just another meditation CD … listen once and be transformed forever.
It must be experienced to truly appreciate the paramount effects "Infinite Blessings" will have in your life.  Ethereal, pleasant sounding music to have playing at home, at work, at your massage, healing or yoga studio where you saturate the space with Infinite light and pure source!
Here's a story of one woman's experience with Infinite Blessings:
"Hi Erica,
I've listened to your CD every night right before I turn off the light to sleep for about a week. I listen to one or two tracks each night. I choose the ones I feel will encourage sleep, which has always been difficult for me. I've waited this long to write to you because I wanted to see if my experiences were a fluke or if maybe your music and blessings had some influence on my life.
I've found that life has suddenly become easier somehow. Since I started listening to your CD solutions to work problems have appeared, I suddenly found something valuable I'd lost (and searched high and low for) and my anxiety level around certain situations has decreased.
I've had some really good ideas about work (I'm a special ed case manager in a high school and my case load of 20 students is varied, challenging and delightful) that just suddenly appeared.
I wish I could explain myself more eloquently, but really, this is what's been happening: situations that were bumpy have become smoother.
I chose your CD because it seemed like a good complement to another addition in my life. I've started meditating again after letting my practice lapse for a long, long time. (I hope to get my yoga practice back to a much more regular basis too, but for now, teaching once a week and my own once-every-two-week or so practice is all I can manage.) I think I'm on the right track overall.
Thank you so much for sharing whatever it is you do! I have no idea what you mean when you say blessings can be communicated through your music, but something is definitely happening. I read somewhere that certain types of music/sounds can influence brain waves in a positive way and I imagine your music does this, but I feel that something else is at work too. Again, thank you so very much.
Very best wishes – D.A."
Infinite Blessings is perfect to listen to and receive Grace Blessings during:
Yoga
Reading
Massage
StudyHomework
Meditation
Breathing Exercises
Prayer


It's also wonderful to listen while cleaning your home; preparing meals; doing creative projects such as writing, jewelry making, sculpting, drawing, painting and during children's playtime.

Other settings include: nursing homes for calming effects; during surgery and recovery for potential increased healing capacity; during the birthing process; romantic encounters with your beloved; in the classroom during nap time, story time, while taking tests or put it on repeat and listen as you are falling asleep.

Here is another woman's experience while listening to Infinite Blessings
"I was doing a routine household task this morning while listening to the Infinite Blessings CD. As the task progressed, I noticed a definite shift in my attitude. I went from being somewhat resigned to the task to feeling contentment and appreciation. This was quite unexpected and absolutely delightful!
"
"While listening to the 'Divine Grace' track of the Infinite Blessings CD, I was moved to sit down and enjoy it as I would a live Grace Blessing. The experience was fuller and more palpable than any live blessing I have ever received! I felt the energy as never before!"
C.R. Eliot ME

The possibilities of how to use "Infinite Blessings" are virtually endless.
  Allow the Divine Presence within to lead, guide and direct you in how to incorporate Infinite Blessings into your day to day life.

The energies contained within are powerful. The longer you bask in them, the easier it will be for you to hold and maintain the high vibrations on your own.

 "I have the Infinite Blessings music and listen to it often. The music is beautiful and uplifting. I definitely feel the higher vibration energy washing over me as I listen."